Advising in Language Learning 5: Becoming an Autonomous Teacher Leader
March 14, 21, 28, 2020
No application or registration fees! Register by February 29th.
Although this course is part of the Advising Certificate program (which has a total of five courses), this is also a stand-alone course in that there are no prerequisites and there is no need to complete any of the other Advising Certificate program. Although some of the participants will be focusing on leadership as it relates to (the development and implementation of) advising, this does not apply to everyone. In other words, if your interest is not (primarily) in language advising but in another aspect of language education, this course will certainly also be useful to you.
Course Details
Course content and practical information (scroll down)
Instructors



Teaching Assistants
Course description
Becoming a learning advisor brings tremendous satisfaction and new opportunities to broaden your skills and vision. It can also bring additional opportunities and – some would argue – responsibilities – to help grow your community. Your success in doing so will depend on your ability to have a positive impact on those around you. In this course we will look at the ways in you can develop the skills and mindset, as well as the courage and resilience, to take become a teacher-leader.
A common misperception of leadership is that it requires a position 'at the top'. Directors, managers and deans are leaders, the rest are expected to follow. 21st century challenges are such that this model no longer works. We all need to step up and do our part. This means knowing how to 'lead from behind', how to inspire colleagues, learners and the institution's management. This means knowing how to identify problems or opportunities, how to alert and bring people on board, and how to collaborate to develop new ways of doing – and being. In this course you will learn not just the mechanics of leadership (as important as they are) but also the personal, emotional, ecological and spiritual strength necessary to be a true leader, regardless of your formal position.
This is part of a series of five online courses being offered by RILAE in cooperation with Kanda University Graduate School and and is a very practical introduction to the art and craft of teacher-leadership. The course consists of practical activities where you will learn how to play an active role in developing your community through proactive and positive leadership. Participants may take this as a stand-alone course or as part of a series in order to earn a Certificate in Advising in Language Learning. There will be a maximum of 20 participants in the course.
Course objectives
At the end of course 5, students should be able to:
recognise different forms of leadership and their relevance for language educators.
recognise different forms and aspects of innovative practice and encourage innovative practice in your community in a sustainable manner.
develop and articulate a clear personal philosophy of how you will contribute to your community
engage in genuine stakeholder engagement.
use advising practices and principles to guide yourself and others towards sustainable growth.
Course structure
This course consists of three hours of online live / real-time lectures per week (for three weeks) and some recorded lectures.
You are asked to watch Video 1, Introduction to the course (recorded lecture), before attending the first online class and read some introductory texts.
The online live lectures are designed to be interactive and intentionally facilitate teacher-participant and participant-participant interactions.
You are expected to view recorded lectures and read some materials each week as part of the course requirements.
You are expected to apply some of the practices and principles discussed in class in your workplace.
You are also required to participate in online text discussions via the online forum in order to discuss ideas related to the issues raised in the class and in the recorded/written materials.
Practice and reflection activities will also form part of the weekly assignments
Textbook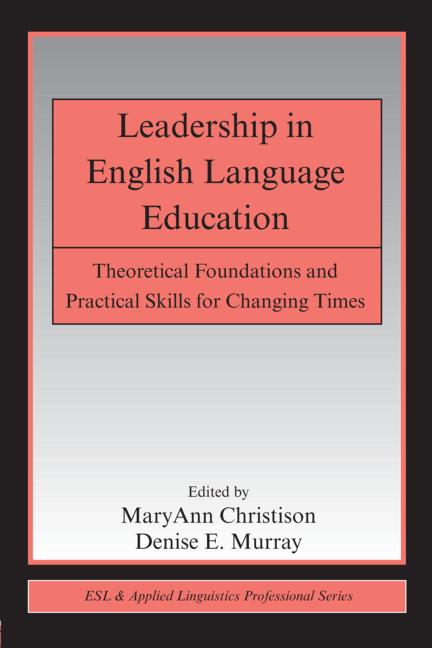 Christison, M., & Murray, D. E. (2012). Leadership in English language education. Taylor & Francis.
Schedule
Before starting
Pre-course assignments (1 hour)
Video 1 (Introduction to the course) (15 minutes)
Course readings
Discussion forum
Week 1: March 14 'The Nature of Teacher Leadership'
Live lesson: Saturday March 14, 2020 , 14:00 to 17:00 Tokyo time 
This week we look at what teacher leadership is and its different forms.
Live lesson content (3 hours)
Readings (2 hours)
Tasks (2.5 hours)
Week 2: March 21 'The Practice of Teacher Leadership'
This week we look at developing a leadership mindset and the necessary skills
Live lesson: Saturday March 21, 2020, 14:00 to 17:00 Tokyo time (3 hours)
Live lesson (3 hours)
Readings (2 hours)
Tasks (2.5 hours)
Week 3: March 28 'The Integration of Teacher Leadership'
Live lesson: Saturday March 28, 2020, 14:00 to 17:00 Tokyo time (3 hours)
In the thid week we will learn about the innovation process and how leadership can help encourage, initiate, guide and support innovation in teaching and advising.
Live lesson contents (3 hours)
Readings (2 hours)
Tasks (2 hours)
Week 4: March 28 to April 4
Final assignment (4 hours)
You will receive a pass/fail grade, which is based on your participation in the course and your performance on the weekly tasks. It is also based on your final assignment, for which you will develop an implementation plan for innovating your and your colleagues' practice. Your plan will have to demonstrate you have understood the different aspects of leading teachers, the innovation process, stakeholder engagement, and your own personal development necessary to carry out the project. More details will be provided during the course.
Summary of content
Pre-course materials: 1 hour
Live lectures: 9 hours
Reading: 6 hours
Tasks: 7 hours
Final assignment: 4 hours
Total time: 27 hours